Sin City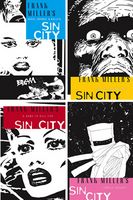 I remember many moons ago an interview on the television with a young guy called Robert Rodriguez, who took part in a drugs company experiment, locked away for a month in a controlled lab situation. With the money he earned, he raised a small amount to release his first film
El Mariachi
which he wrote whilst under observation in the drug companies lab.
I saw the bigger budget film of his Desperado, which was OK and was impressed and at the same time disappointed in parts with his film 'Once upon a time in Mexico". What did impress me about "OUATIM" were the DVD extras where we got to see around Rodriguez' studio which is near his house. He gave an example of how he scored as well as some digital special effects, he even included a recipe for
Puerco Pibil
which were one of the items available from the menu in his kitchen .....what can't this guy do?
So we've been on delayed release on Sin City downunder which was released stateside in April, I saw the shorts on the web and could not wait for it's release. Words escape me, it's a comic book with a pulse, the noirest of film-noir and I can't remember Mickey Rourke EVER acting as well as this.
I'll let Moriarty from aintitcool do the talkin' for me.
That quiet digital revolution I was talking about last week just got a whole hell of a lot louder and crazier. Just wait till you get steamrolled by this big nasty hypernoir on April 1st. If you're anything like me, you'll stagger away from the encounter with two blacked eyes and a broken bloody smile that will last for days. [MORE]

Brilliant just brilliant.