Cyclone Tracy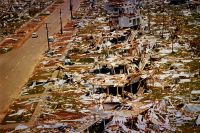 Cyclone Tracy

Thirty years ago there was a large cyclone downunder, which pretty well wiped out the Northern Territory capital of Darwin.
The aftermath and rebuilding can be further referenced at the Northern Territory library service
here
. It would be interesting to see how this disaster 30 years ago was handled differently to the Katrina aftermath.
Talking aftermaths.....a rather bizarre world of a FEMA camp for up to 3,000 post Katrina evacuees can be found at
Above-top-secret.
There's a
rebuttal from Ed Kostiuk
from the Oklahama State Dept. of Health. Including a few gems.
This on those dastardly FEMA camp food tamperers..... I tell you what, these
criminals
seem to be everywhere.
The reason your "pop-tarts" were accepted is they are sealed in an enclosed package and are "tamper proof". We are trying to protect our Louisiana friends from the criminal element and bad people that might want harm done to them. This is the reason Apples and Oranges were not allowed.
and this bit of newspeak....
Prior to Jesse Jackson making his comments our Governor and the State Officer of Emergency Management asked all Oklahomans to please refrain from using words such as refugees and displaced people. We were asked to use the wording "Oklahoma Guest". This went out on the media here in Oklahoma and in print.