Mullah Nasruddin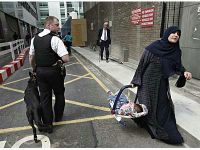 Woman in burqa in London

I saw this photo in the Murdoch owned Daily Telegraph today and it is one of those creepy views of the world that frankly I'm not at all comfortable with. There's a paramilitary guy with a dog looking suspiciously at a woman with a baby. Happens to be she is muslim in her burqa garb. If she had of been a western woman I'm not sure if the photo would have made the daily Murdochs around the world.
How persecuted do these people feel I wonder? This photo says so much. What if the person with the baby was a Hasaidic Jew and the authority figure was an SS soldier? Why was this woman living in London? What had she escaped or optimistically hoped for, to enjoy the "freedoms of western society"?
I sense the muslims are slowly becoming the new Jews of pre-WWII Germany. Typhus and lice has been replaced by "terrorism".
For some reason the media and powers that be require an "enemy" to keep the population in a general state of fear. Not a new phenonema and one revealed by Chomsky in his essaty
"Manipulation of Fear"
and Mike Moore's Farenheit 9/11. This from David Williamson's scripted
Gallipoli.
Camel Driver: Where you headed?

Archy: Perth

Camel Driver: You lookin' for work?

Archy: No, I'm off to the war.

Camel Driver: What war?

Archy: The war against Germany.

Camel Driver: I knew a German once. How did it start?

Archy: Don't know exactly, but it was the Germans' fault.

Camel Driver: The Australians fightin' already?

Archy: In Turkey.

Camel Driver: Turkey? Why's that?

Archy: Because Turkey's a German ally.

Camel Driver: Can't see what it's got to do with us.

Archy: We can't stop them there, they could end up here.

Camel Driver: (After surveying the desolate landscape) And they're welcome to it.
So in some sort of compromise I'm going to put up a tale of Mullah Nasruddin which shows, they're human, they have a sense of humour and beneath the burqa is someone just like you and I who really just wants a better place for our children to live in.
I'm no match for the power of the mass media but a small voice pointing out some of the similarites may make a little bit of difference in the grand scheme of things.
This is one of the many Mullah Nasruddin tales. There's a slew more of them
here.
A neighbor who Nasruddin didn't like very much came over to his compound one day. The neighbor asked Nasruddin if he could borrow his donkey. Nasruddin not wanting to lend his donkey to the neighbor he didn't like told him, "I would love to loan you my donkey but only yesterday my brother came from the next town to use it to carry his wheat to the mill to be grounded. The donkey sadly is not here."

The neighbor was disappointed. But he thanked Nasruddin and began to walk away.

Just as he got a few steps away, Mullah Nasruddin's donkey, which was in the back of his compound all the time, let out a big bray.

The neighbor turned to Nasruddin and said, "Mullah Sahib, I thought you told me that your donkey was not here.

Mullah Nasruddin turned to the neighbor and said, "My friend, who are you going to believe? Me or the donkey?