Robert Crumb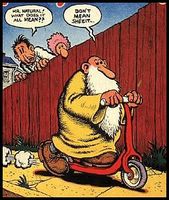 Mr Natural

Some time ago I saw the documentary
Crumb
and for a moment my world was turned upside down. Here was a guy who had a strange family, collected obscure yet wonderful 78rpm records, dressed like a guy from the 50's and put out some pretty weird and wonderful comics. And some of the content in his comics was way out there deep in the dark side.
I keep coming across him from time to time.
Peter
has a link to his
"Short History of America"
which is the kind of Crumb I like.
Years ago when I was struggling with a HUGE mortgage and driving around in a lovely old Holden Commodore with an AM only radio.... no tape deck, I found my self having to listen to the Australian Broadcasting Corporations various programmes(it was either that or horse racing and shock-jock talk back radio). Unexpectedly, on either on a Friday or a Saturday afternoon on my welcome way home from work, a syndicated show from the US NPR network started, where Robert spun his collection of 78 rpm discs. From memory it was really great jazz, folk, bluegrass and some old French tunes, captured with crackles and warmth as the thick needle dragged across decades old acetate ...... amazing. I'm not sure what was better, the music or Robert's growly, lazy laid back voice. Again this was the gentler, more user friendly Crumb I like.
As a Minister in
The Church of Subgenius
, I must bow down to the patron Saint Robert Crumb (The Great) on April the 22nd. A full list of patron saints is
here.
there's one old guy Nenslo who actually did some work with him in the 60's. The comic book culture was never one I really got into..... which only makes me only a half assed sub-genius I spose.
Anyway, I did something today which I haven't done for awhile and walked into comic store in olde Sydney town. I looked at a few comics and eventually came to the Crumb section. Here he was in his post trip stage with these surreal images of his imagination, thick-set women and yes Mr Natural. For a time I was taken back to those trips home, tired and sometimes sore........listening to those old tunes.
Roberts website is
here
. Pop in and take a look, you may be shocked or amused or like me a bit of both. The world needs a few more guys like him.